Why N'Clusive Ministry
"During the COVID 19 Pandemic, when everything stopped, God strongly impressed upon my heart to birth this ministry. So much so, that He gave me the name and then led me to the resources to give life to the imparted vision." - Marketer Ash

The name N'Clusive ministry and the tag line "Taking the "I" out of Ministry" is the premise for N'Clusive. This ministry seeks to include all and exclude none while advancing the Gospel of Jesus Christ. N'Clusive is a faith based organization uniting faith principles and business practices.
Diversity
We believe in the practice of including all individuals and excluding none.
Equity
We believe in self identified social, economical, and spiritual wellness for individuals and businesses.
Unity
We believe in uniting faith and business to stimulate social, economical and spiritual growth.
Faith
We believe in applying faith principles to business practices.
James 2:14-17
New International Version
"What good is it, my brothers and sisters, if someone claims to have faith but has no deeds? Can such faith save them? Suppose a brother or a sister is without clothes and daily food. If one of you says to them, "Go in peace; keep warm and well fed," but does nothing about their physical needs, what good is it? In the same way, faith by itself, if it is not accompanied by action, is dead."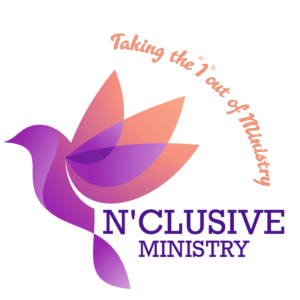 Services offered
Uniting Faith and Business...
Workshops and Seminars (virtual and in person)
Ministry and Leadership Development and One on One Coaching
Spiritual Resources and Tools
Business/Ministry startups
Expanding Services/Products
Leadership Development
Change Management Initiatives
Creating A value Based Culture
Diversity and Inclusion
Diverse Adult and Youth ministry that foster:
Inclusion
Participatory Faith
Active prayer life
Leadership culture
Life Application
Biblical study
Access to Social and Economical Resources
Family Education
Community Development
We utilize the
WING

method to grow
W

hat - What is the focus?
I

ntervention - What is the appropriate action or plan?
N

ecessary – What is critical for success?
G

rowth - What does the integration and growth of the ministry look like for long term sustainability?
What you focus on will grow!